Is technology keeping us as little too attached to the workplace? Nearly two out of 10 Americans (17%) say their employers expect them to be readily available online during waking hours throughout the week, and 9% are expected to make themselves available on weekends and vacations too, according to the YouGov Omnibus survey taken March 8 - 11, 2013.
Nearly six out of 10 (58%) said that if they received a text message, instant message or e-mail during non-work hours from their employers, they would reply immediately. 20% said they would wait until work hours to reply.
However, the overwhelming majority don't seem to feel comfortable being highly accessible online with their bosses: 71% believe employers should only expect their employees to be available via e-mail, text message or instant message during regular work hours, or for special projects or emergencies.
While more than four out of 10 Americans (43%) say their manager's primary communication channel with them is face-to-face, for 27% it is via e-mail, 23% use telephone, and 12% primarily communicate with texts.
More than one in five Americans (22%) visit non-work-related web sites on the job on a daily basis. Another 12% claim they only visit non-work related websites during their lunch hours or after logging out at the end of the workday. A scant 14% say they never visit non-work-related web sites at all during office hours.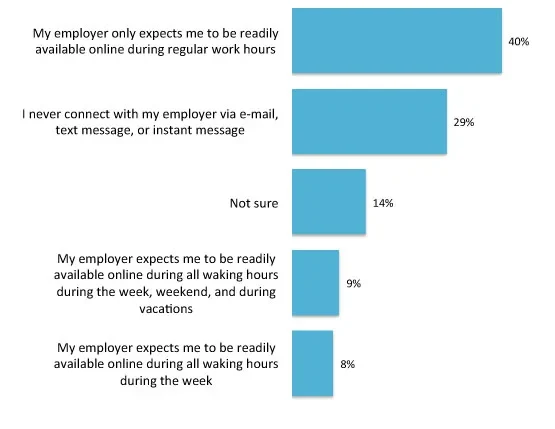 For further information about poll results, and for details about methodology and Omnibus services, please email omnibus.us@yougov.com.