One quarter of Today Show viewers believe that co-host Matt Lauer had something to do with Ann Curry's departure from the show last year, according to the YouGov Omnibus survey taken March 19 - 21, 2013.
Four out of ten (41%) Today Show viewers, however, believe that Lauer had nothing to do with Curry leaving. One third (33%) are not sure.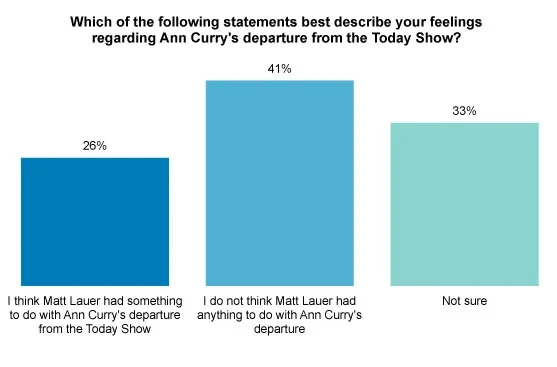 The five most cited phrases used to describe Matt Lauer by American responders are "intelligent" (18%), "annoying" (16%), and a three-way tie between "a prima donna," "vain" and "entertaining," all at 13%.
While Today Show, Good Morning America and CBS This Morning viewers generally assign Lauer more positive descriptions, Fox & Friends viewers registered their most popular Lauer descriptions as "annoying" (32%), "boring" (29%), "a prima donna" (25%), "shifty" (24%), and "vain" (22%).
Nearly four in ten Today Show viewers (37%) enjoy watching Matt Lauer on the Today Show, and 30% watch the show regardless of who the hosts are. However, 13% have a bone to pick with Lauer, split this way: 9% like the show but don't like him and think he should be replaced, while 4% feel the same way but don't think he should be replaced. Nearly one in 10 Today Show viewers (9%) feel the whole format of the show needs to be updated.
For further information about poll results, and for details about methodology and Omnibus services, please email omnibus.us@yougov.com.