The chance of winning the lottery is about 1 in 175 million, which means one has a better chance of hitting two straight holes in one! Despite this wild statistic, plenty of people still buy lottery tickets each and every week. For many, it's the opportunity to mentally escape and daydream momentarily about escaping work, paying off bills and never-ending debt, or about finally living the dream life.
In a recent Omnibus survey, respondents were asked about their thoughts on the lottery. They were asked how often they think about winning, how often they purchase tickets, what they would do with the money if the won, and how much they would need to win in order to quit their jobs.
A quarter of Americans think about winning the lottery once a week or more, considerably more than the 14% who buy a weekly lottery ticket. The majority of respondents either never thought about winning the lottery (26%) or thought about it 1-2 times per year (34%). The majority of respondents also rarely (34%) or never (28%) bought lottery tickets, and these figures was relatively equal across ages, incomes, races, and regions.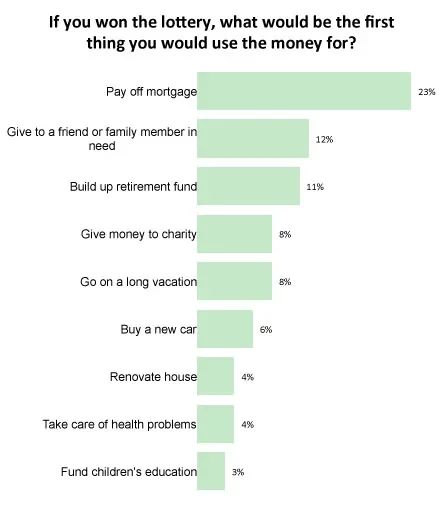 What would Americans spend their lottery winnings on? 23% would pay off their mortgage, particularly those aged 35-54 (33%). 12% would share with family members of friends while 11% would build up retirement funds.
Lastly, a significant number of respondents (29%) agreed that it would take about 1 million dollars for them to quit working, nearly half of them (48%) falling within the 55+ age range. An equally significant amount of respondents (27%) stated they would never give up work, with 40% of them falling within the 18-34 age range.
For further information about poll results, and for details about methodology and Omnibus services, please email omnibus.us@yougov.com.