One in two Americans think Father's Day is shortchanged compared to Mother's Day (51%), according to the YouGov Omnibus survey taken June 4 through 6, 2013.
41% willingly admit they think about Mother's Day more.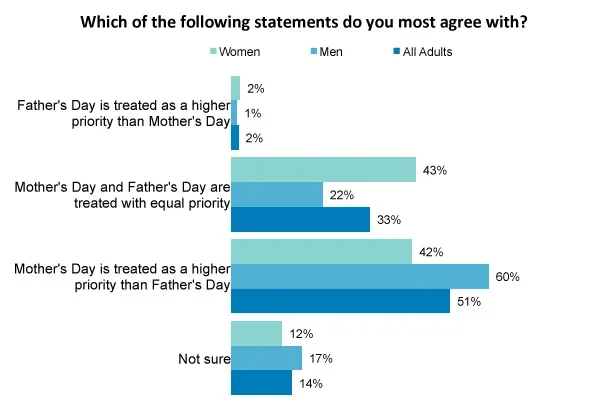 Of course, it doesn't help that some people don't know when Father's Day takes place! One in four Americans (24%) incorrectly believe that Father's Day occurs on the second Sunday of the month, while a full 27% admit they don't know which Sunday it falls on. 81% of respondents did at least know that Father's Day falls in June.
When it comes to famous dads, Cliff Huxtable, the character played by Bill Cosby on his acclaimed CBS TV series, is America's favorite TV father, according to respondents.
Huxtable took one third of the responses (32%), a wide lead over second place Tim Taylor (12%), comedian Tim Allen's lead character on "Home Improvement" and the cantankerous Al Bundy of "Married With Children" fame (11%). Back of the pack fathers include Bruce Jenner from reality show "Keeping Up With The Kardashians" (2%), temperamental Alan Mathews of "Boy Meets World" (4%), and grizzled Red Forman of "That 70s Show" (4%).
In real life, President Barack Obama is considered America's favorite celebrity father (23%), followed by Will Smith (17%) and Brad Pitt (11%). Receiving the fewest votes were Jay-Z, Eminem, Seal and Chris Martin (Coldplay).
For further information about poll results, and for details about methodology and Omnibus services, please email omnibus.us@yougov.com.