Whether it's trying a local dish or going bungee jumping, tourists always like to try something new when on vacation. But even for the bravest adrenaline junkies among us, some locations are seen as too dangerous to visit.
Afghanistan, Iraq, Iran and Syria – unsurprisingly, considering the news headlines – are the most polled locations deemed too dangerous to go for a vacation. But even though 81% of Americans thought war-torn Afghanistan was too risky to go for a trip, the remaining 19% didn't. The US Department of State is solidly with the majority, warning US citizens against the risks of kidnapping and attack if they visit the country.
North Korea might be notorious for its totalitarian regime and anti-US rhetoric, but the unusual state has a growing tourist trade. Foreign visitors are allowed into the country with a guide, where they can take in tours of the Kumgang Mountains, Demilitarized Zone bordering South Korea and giant monuments in Pyongyang. Despite the constant police presence in the country, it might be due to tensions with the US that has 71% of Americans feeling it is too unsafe to visit.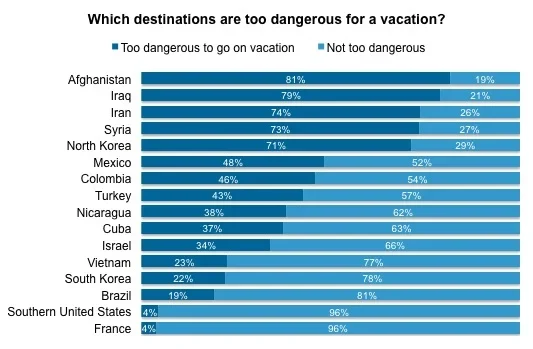 Mexico might be closer to home, but is still seen as too risky for 48% of Americans to visit. 51% of Americans living in the South of the US thought this border country was a no-go area. Millions of Americans safely visit Mexico each year for study, tourism, and business – including more than 150,000 who cross the border every day, according to the US Bureau of Consular Affairs. Nevertheless, drug-related violence in the country means Americans are divided over whether it is safe to visit or not. Among the most-polled dangerous vacation destinations in the South Americas were Brazil (too dangerous for 19%) and Colombia (too dangerous for 46%).
Even home soil is thought to be too dangerous for 4% of Americans – almost 1 in 20 thought the southern United States was too dangerous for a vacation, and 9% of westerners wouldn't venture to the South for a trip. With popular tourist destinations like Atlanta, Charlotte, Austin, and New Orleans, and the South's distinct culture of music and cuisine, it is not surprising the vast majority (96%) of Americans see the region (as well as the rest of the US) as safe for tourists.
The majority of us (74%) have fortunately not been in a dangerous situation when on vacation. But if a danger did arise, the biggest issue was non-violent theft. Other types of danger included a perceived terrorist threat, doing an activity like a bungee jump or watersports that lacked proper safety, and even physical attack or mugging. Men responded they were more likely to get into a dangerous situation when abroad than women – 29% of male respondents, compared with 17% of females, said they had been in a dangerous scenario whilst on vacation.
Is there anywhere you think is too dangerous that isn't polled here? Or are any of these places misunderstood? Leave your comments below.
Find the full results here.