As America's hoi polloi line up to be the first space tourists, we asked the public if they would want to boldly go where no celebrity has been before… outer space.
Reams of celebrities are reaching for the stars since Richard Branson announced he would be launching a tourist space plane. More than 600 people have already signed up to the space trip offered by Virgin Galactic, which is tipped to jet off later this year. Would-be astronauts including Justin Bieber, Tom Hanks, Angelina Jolie, Stephen Hawking and Paris Hilton are among those who bought tickets to the tune of $250,000.
The space flight might cost the Earth, but the ticket will buy passengers complete G-force training and invitations to test flights of the SpaceShipTwo – during a test flight in April, the craft reached supersonic speeds and 57,000 feet before returning back to Earth.
Blast-off may be beyond the pockets of ordinary Americans, but if even if money were no object, only 27% of the population would definitely want to go on a space flight. 30% are dead set against going on Virgin Galactic, regardless of the price tag.
Some of us are unsure over whether or not to join the likes of Yuri Gagarin, Neil Armstrong and Buzz Aldrin in going to space – 16% said they would probably like to go on SpaceShipTwo, while 16% said they probably wouldn't be prepared for blast off.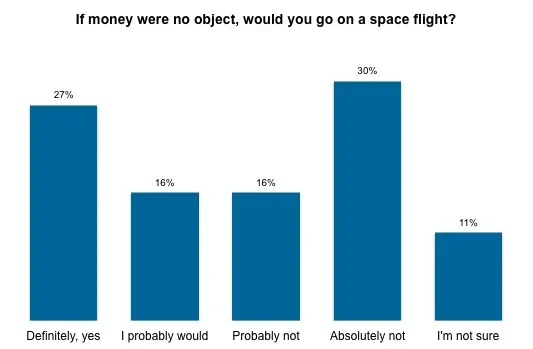 For some A-listers, space could be the only place to escape the paparazzi and media attention they get around the world – and the list of celebrities keen to experience zero gravity is growing.
Justin Bieber suggested making a music video in space after buying a Virgin Galactic ticket – but he might not be able to count on his fellow passengers to take part. Just 2% of Americans said they would like to accompany Bieber on a space flight, while 41% said they would rather the pop star wasn't on their flight at all.
Tom Hanks was the most popular potential fellow passenger ­– 25% said they'd like to blast off with the Hollywood star, compared with just 3% who would rather be on a different flight.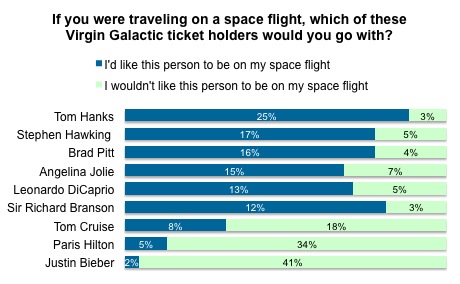 Men and younger Americans are more willing to be potential space passengers – just 21% of women said they would definitely like to be a Virgin Galactic ticketholder, compared with 35% of men. Although those of us with kids who definitely do want to go to space (27%) match the responses of adults without children, adults without kids (32%) are more likely to be set against space travel than those with children under 18 (24% definitely wouldn't go into space).
Despite having witnessed the first human walk on the Moon in 1969, the over 55s are more unwilling to travel to space than millenials. 40% of adults aged 55 and over responded they would definitely wouldn't like to be a space tourist regardless of the cost, compared with 22% of 18-34 year-olds who wouldn't want a ticket.
For further information about poll results, and for details about methodology and Omnibus research services, please email omnibus.us@yougov.com.