As the Government and advocacy groups are raising awareness for Suicide Prevention Awareness Month, 25% of Americans say that they have had suicidal thoughts.
A nationally representative sample of 1,084 people was asked if they were willing to answer questions on suicide. Results are from the 1,019 adults who agreed.
One quarter of the nation is affected by suicidal thoughts, while 47% of Americans say that they know someone who has attempted or committed suicide. 23% of the population said a friend or family member has told them that they have had suicidal thoughts.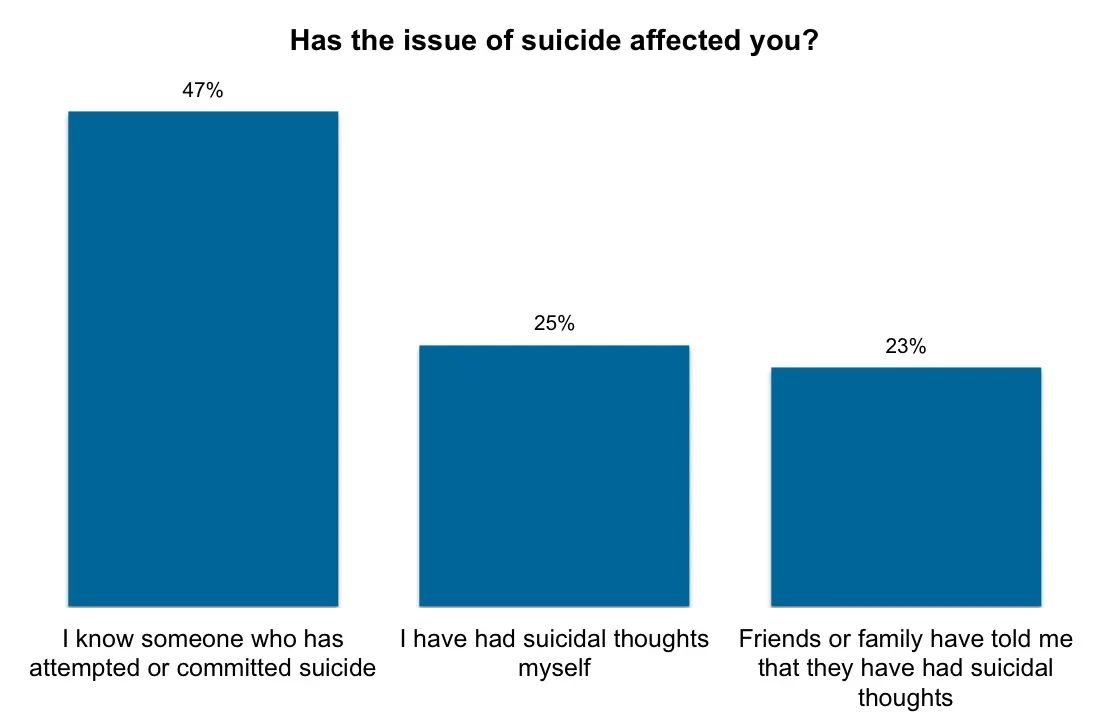 18-34 year olds (32%) and women (28%) were more likely to say that they had been affected by suicidal thoughts than the general population. Young people tend to be the most affected by suicide, with teens being identified as an at-risk group, according to the Suicide Prevention Resource Center (SPRC). The Center said that suicide is the second-leading cause of death among 25 to 34 year olds, and the third-leading cause of death among 15 to 24 year olds.
The West, according to the SPRC, has been the fastest-growing region in terms of suicide rates since 1999. This is reflected in the YouGov results – 26% of Americans living in this region stated they have had suicidal thoughts; the largest proportion out of the four US regions.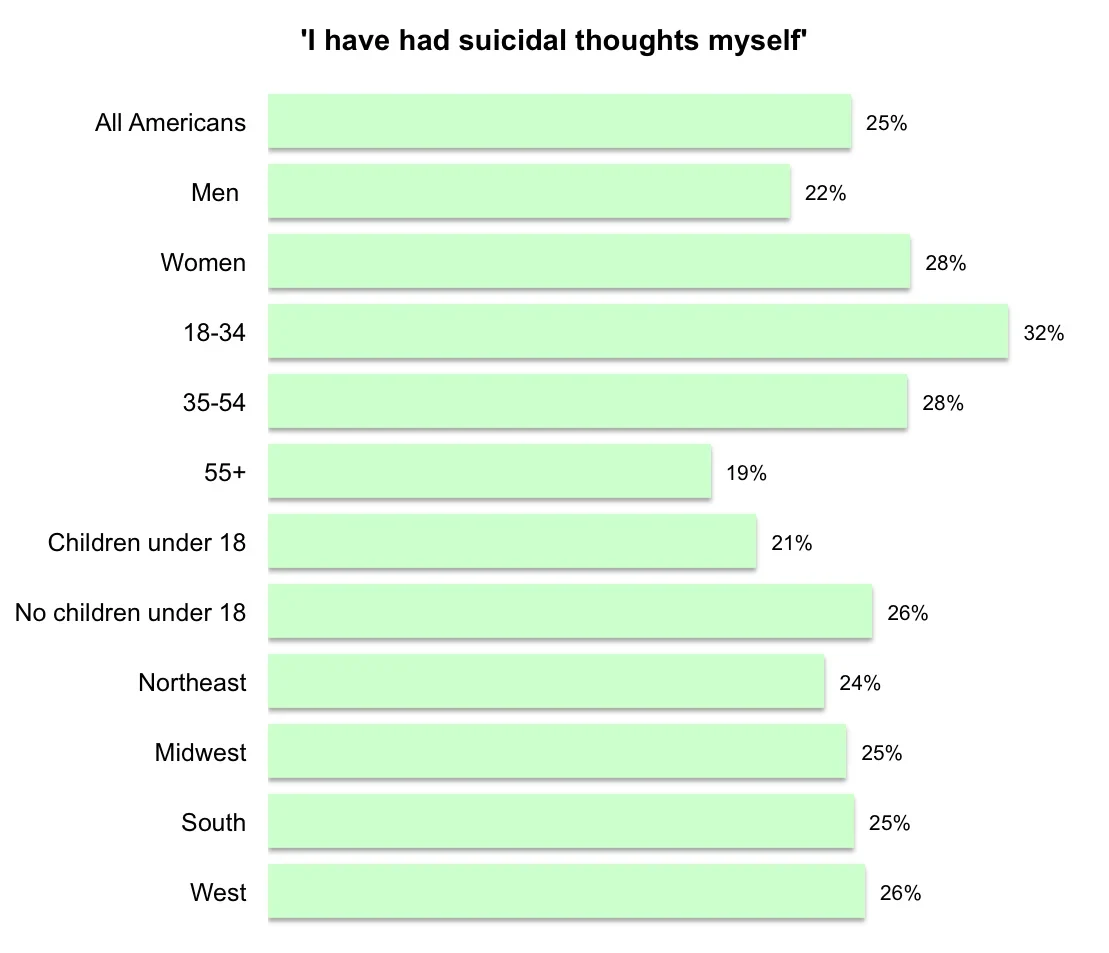 Timed to coincide with World Suicide Prevention Day on September 10, the month is designed to raise awareness of mental health issues and identify risk factors in suicide. The US Centers for Disease Control and Prevention has told people to recognize common warning signs, including:
Depression, feelings of hopelessness, or suicidal thoughts
Impulsiveness, extreme anxiety, agitation, irritability, or risky behavior
Withdrawal from others
Giving away treasured belongings
Loss of interest in activities that were once enjoyed
Abuse of alcohol, drugs, or other substances
Currently there are a number of support groups that people in need can turn to, including the Survivors of Suicide Support Groups based in several US states and state-specific organisations listed in a national directory.
44% of Americans feel that there are not enough suicide prevention programs that offer individuals the support and treatment they need. 31% says they that there are plenty of programs, with women being more likely than men to feel current support options are inadequate.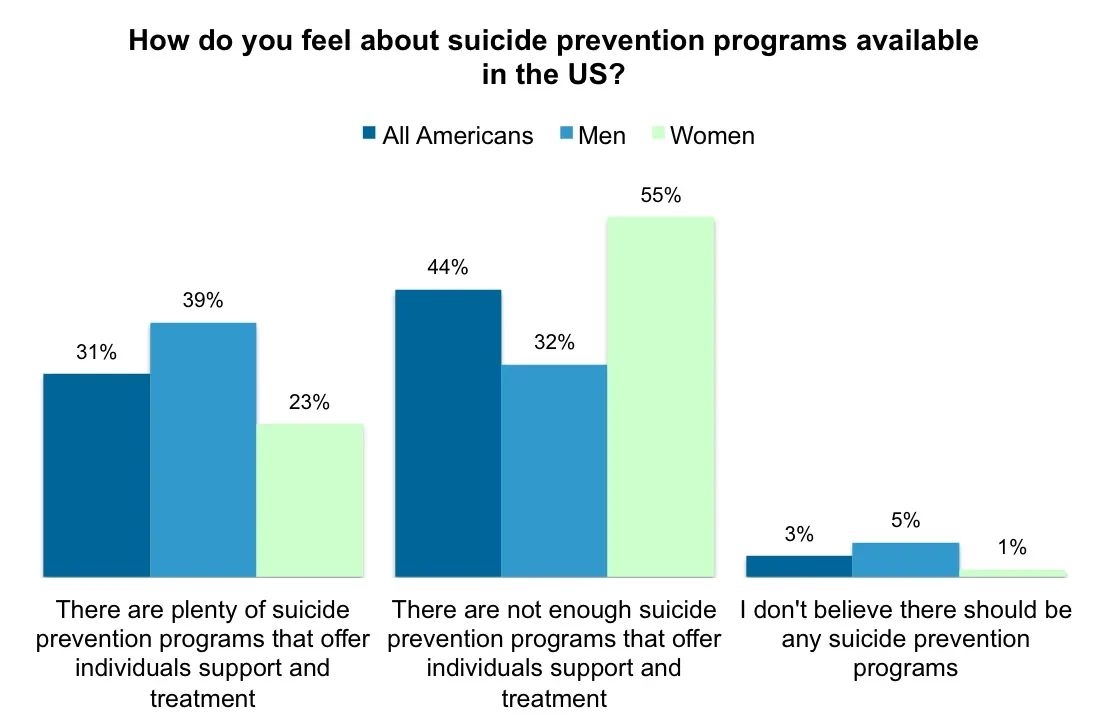 A 'public' health problem?
17% of Americans feel suicide is a 'major public health problem' in the US, rating it as #10 out of a 1 to 10 scale of seriousness. Just 5% of Americans rated suicide at the bottom level of #1, meaning they believe it is 'not a public health problem at all.'
Dr Lanny Berman, president of the International Association for Suicide Prevention, said suicide should be a matter of public health. Speaking on World Suicide Prevention Day, he said: "From reducing stigma, and helping those with mental disorders get treatment to making it more difficult for access to common methods of suicide, lives in the balance can be redirected to health, meaning and value."
"Prevention begins with awareness, and suicide can be prevented. That can only occur because you take the time and expend the effort to make prevention a priority," Berman added.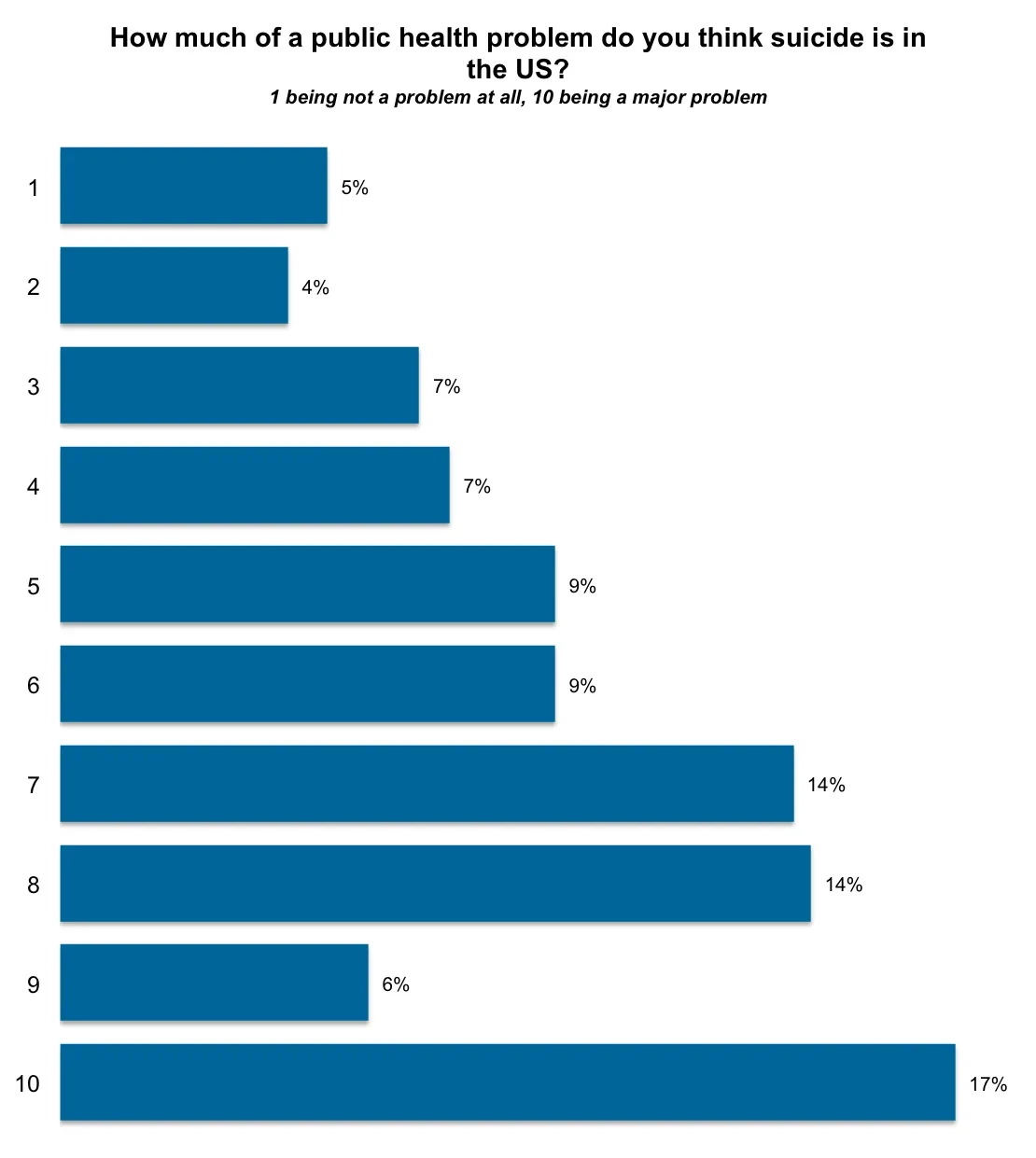 School age suicide remains paramount
The idea to provide suicide awareness training to school employees and encouraging young people to talk about mental health issues has been enshrined in the Jason Flatt Act – named after a Tennessee student who took his own life in 1997 – now approved in 12 states. It gives school employees and parents the training and responsibility to talk to young people about suicide and mental health, and identify at-risk individuals.

Awareness of the Suicide Prevention Awareness Month is higher among the younger demographic. An active social media campaign and events based in schools, along with reforms like the Jason Flatt Act, could be behind this increased level of awareness. While 37% of 18-34 year olds have heard of the Awareness Month, this was the case among just 17% of 35-54 and 20% of adults aged 55 and over.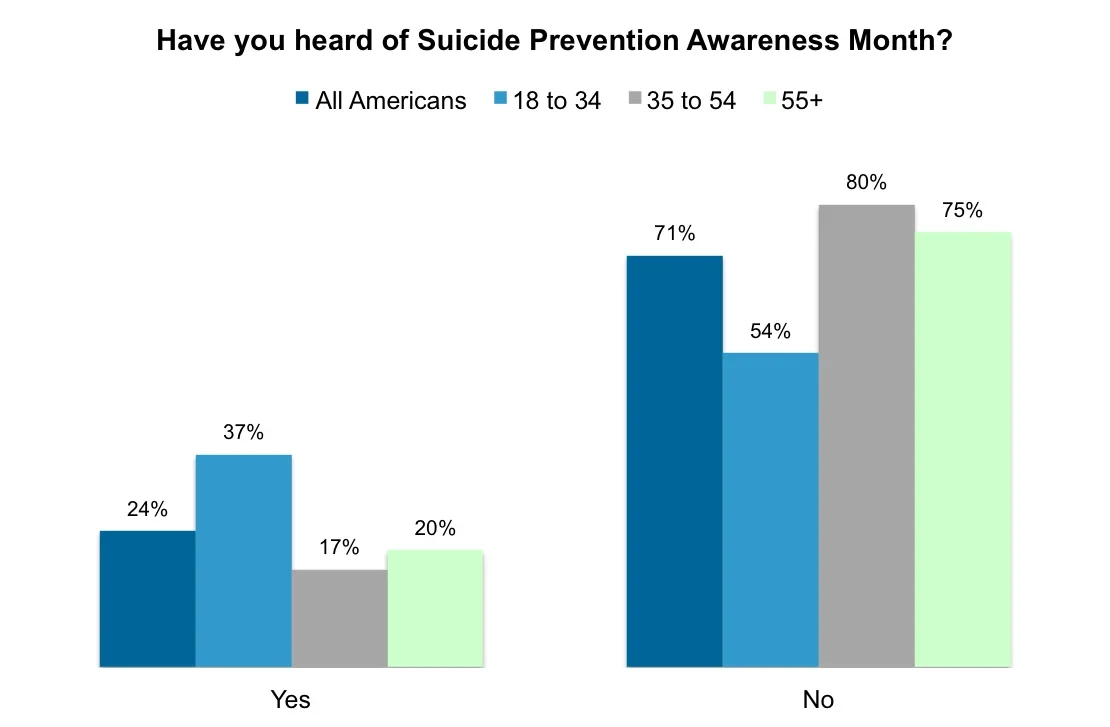 Middle and older generations affected
Suicide is not something that affects only younger people: among Americans aged between 35 and 64, suicide levels increased 28% from 1999 to 2010, in data from the Centers for Disease Control and Prevention.
While suicide is a highly personal and individual tragedy, other possible contributing factors have been identified including the recent economic downturn and a rise in drug overdoses associated with the increase in availability of prescription medicines.
More than half (54%) of 35-54 year olds say they know someone who has either attempted or committed suicide, while younger respondents were most likely to have had suicidal thoughts themselves or been confided in by a friend or family member who has had suicidal thoughts.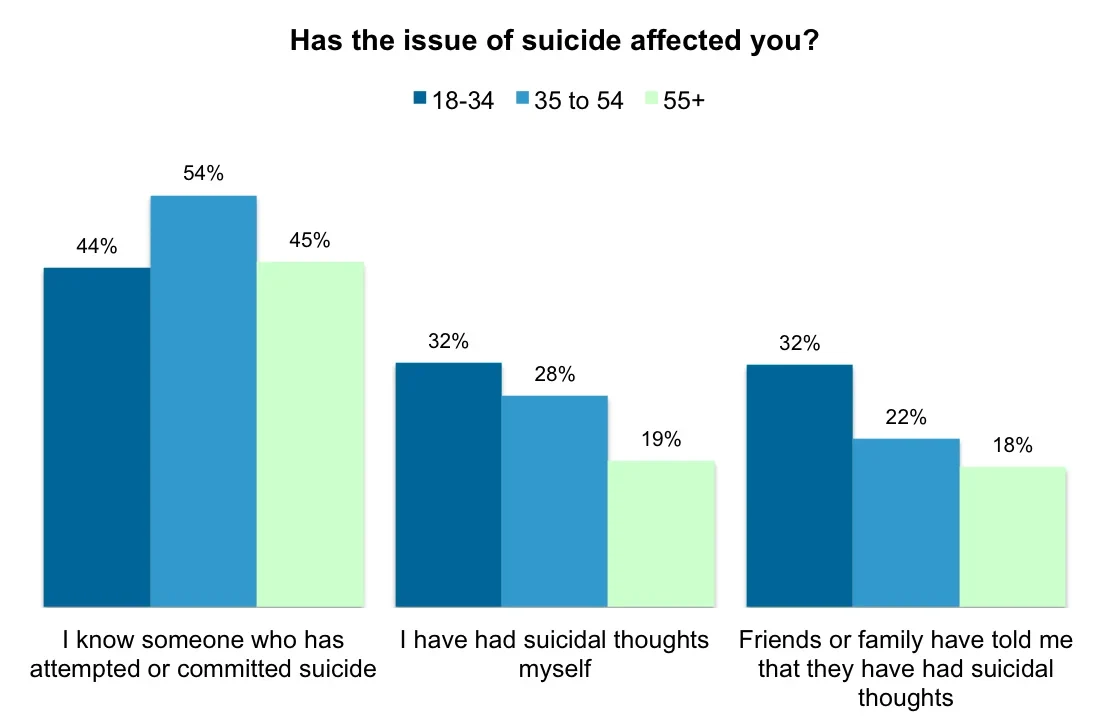 For more information, visit the Suicide Prevention Awareness Month website or the International Association for Suicide Prevention. For further information about poll results, and for details about methodology and omnibus services, please email omnibus.us@yougov.com.
Find the full results here.