United Airlines has started a crackdown on the size of the carry-on baggage allowed into the cabin. Passengers now need to prove that their bag is smaller than the maximum allowance.
According to the latest YouGov Omnibus survey, 32% support the crackdown compared to 24% who oppose. Half (50%) of recent fliers (those who have flown in the last year) support more stringent rules on carry-on baggage as well as 46% of Americans who are signed up for an airline reward program.
Thinking about the changes made by United Airlines, with which of the following statements do you agree, if any?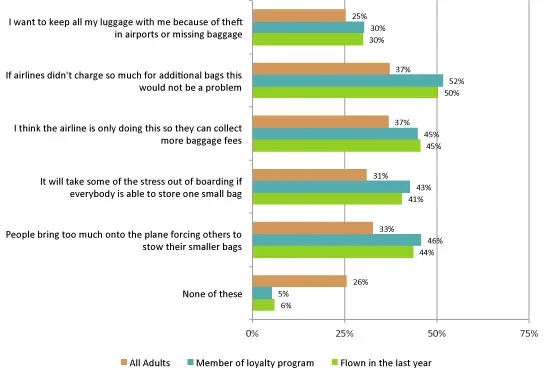 Americans do suspect the motives for United's crackdown on carry-on. 37% thought that United were rejecting large carry-on to increase their stowed baggage fees, and thought that if airlines didn't charge so much for additional baggage the changes wouldn't be necessary. 50% of those who have flown in the last year think that the higher stowed luggage charges are the problem.
Of recent fliers 46% think that fellow travelers try to haul to much onto the plane with them, and 43% think the new rules might help reduce some of the stress of boarding.
Delta Airlines recently announced a change in their reward program, which will reward dollars spent rather than miles travelled. Although 71% of the general population doesn't care about the changes either way, 30% of loyalty program participants and 27% of recent fliers oppose the change.
Thinking about the changes made by Delta, with which of the following statements do you agree, if any?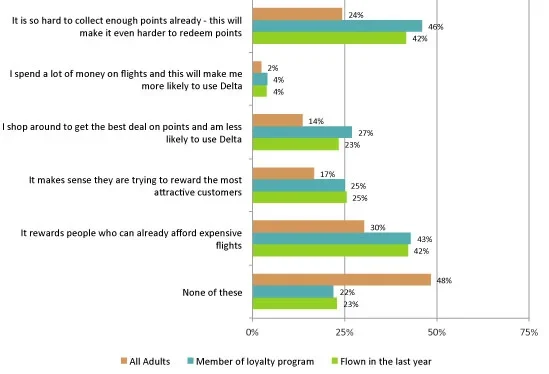 Although a quarter (25%) of airline loyalty program members think it makes sense for Delta to reward the most financially attractive customers, many are worried about the future value of the Delta reward program:
46% of reward members feel that the change will make it even more difficult to redeem points
43% of members feel that it is rewarding wealthy customers who can already well afford to pay for flights.
23% of recent fliers and 27% of loyalty program members claim to shop around for points deals and think they are less likely to fly Delta in the future.
More than one third (37%) of reward members had heard of the changes to Delta's loyalty program, and 36% had heard about the changes at United.
In the wake of the disappeared Malaysian airline flight MH370 we asked Americans what factors most impacted their choice of airlines.
More than half (52%) of Americans said the airline safety record was a factor when choosing airlines compared to 45% of those who have actually taken a flight in the last year. Cost was the overwhelming motivator for both the general population (72%) and recent fliers (72%). Loyalty programs are an important influencer for 28% of recent flyers and 38% of membership holders. In-flight entertainment is less important with only 10% of the general population and 16% of recent fliers claiming it affects their purchase decision.
For further information about poll results, and for details about methodology and omnibus services, please email omnibus.us@yougov.com.
Find the full results here.
Image courtesy of Getty.