As summer approaches, will Americans opt for a vacation or staycation? While 80% of Americans who plan on taking a trip this summer say they will take a break in the States, 7% plan on going abroad, and 13% say they will choose to vacate in the US and abroad.
While most Americans will be tourists somewhere this summer, 40% of the nation says they will not be taking a trip for pleasure at all. The majority of lower earners – 54% of people earning less than $40,000 in a year – say they will not be going on vacation this summer. By contrast, just 29% earning $40,000 to $80,000 and 21% among those earning $80,000 and above won't be taking a break this summer.
18 to 34 year olds are the age group most likely to be taking several trips in one year, with 7% saying they will be going on vacation more than four times this summer.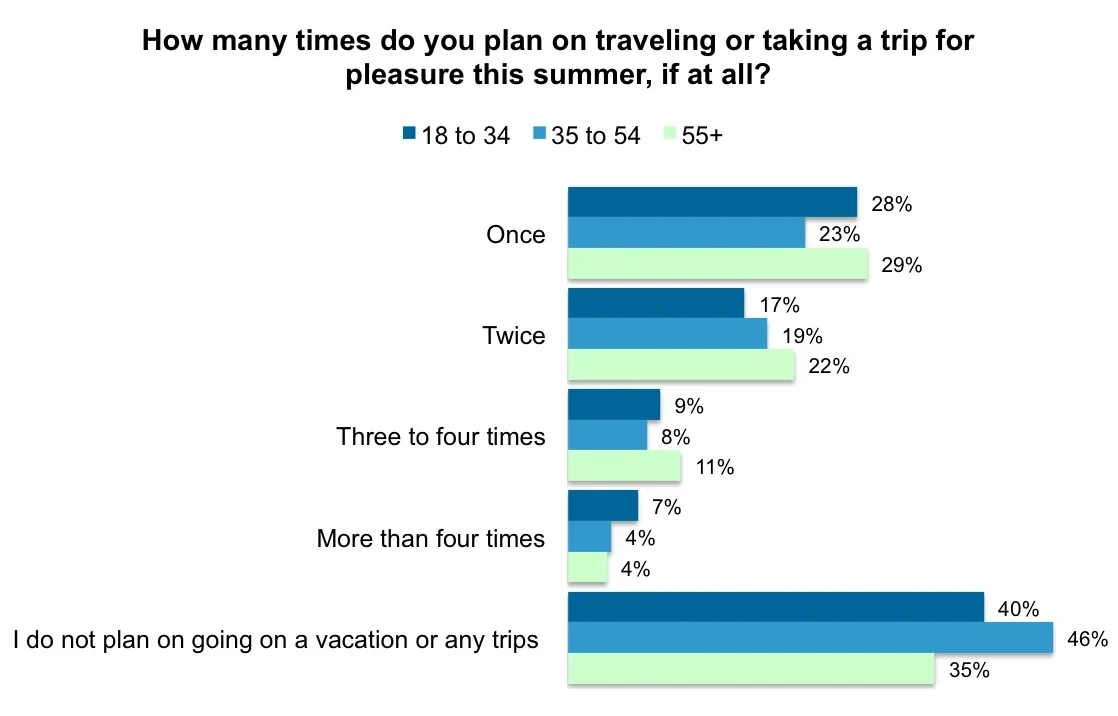 Younger respondents are also more likely to be jet setting, with 13% of 18-34 year olds indicating they will travel abroad, compared to a national average of 7%. Over-55s are more likely to stay in their home country for their vacation – 87% compared to 71% of 18-34 year olds who are going on vacation this summer.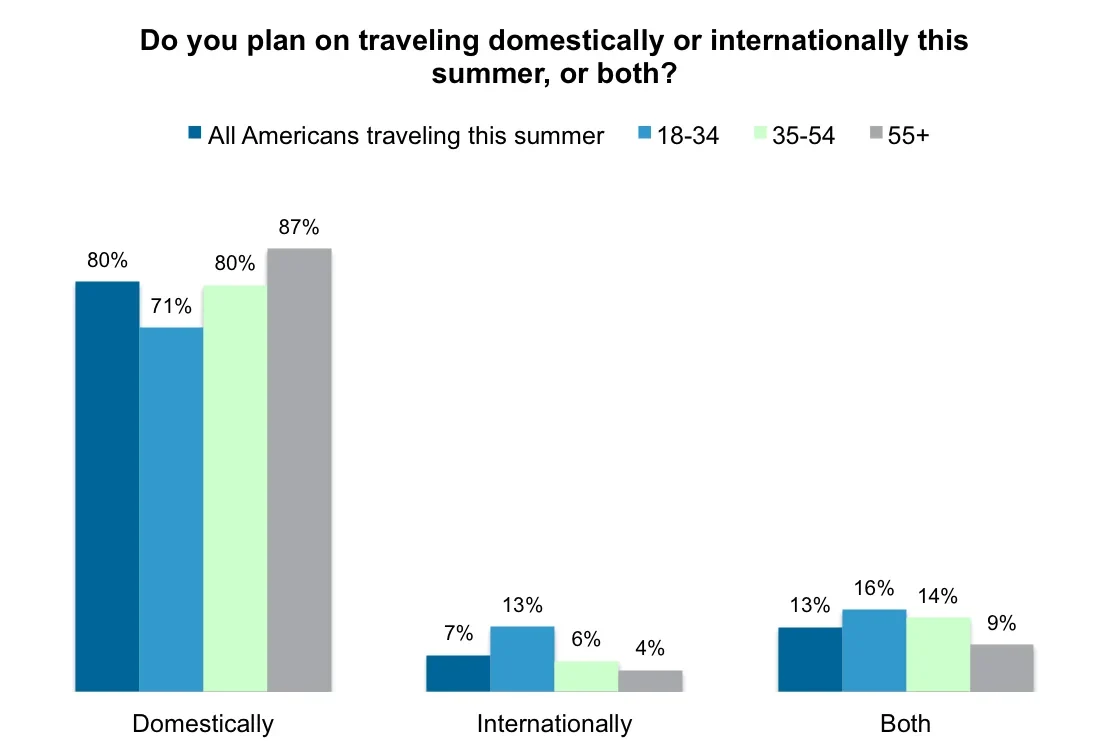 A vacation abroad is more popular among higher earners and adults without any young kids. 20% of people earning more than $80,000 in a year are going to a domestic and international vacation destination, compared to 10% among people earning under $40,000.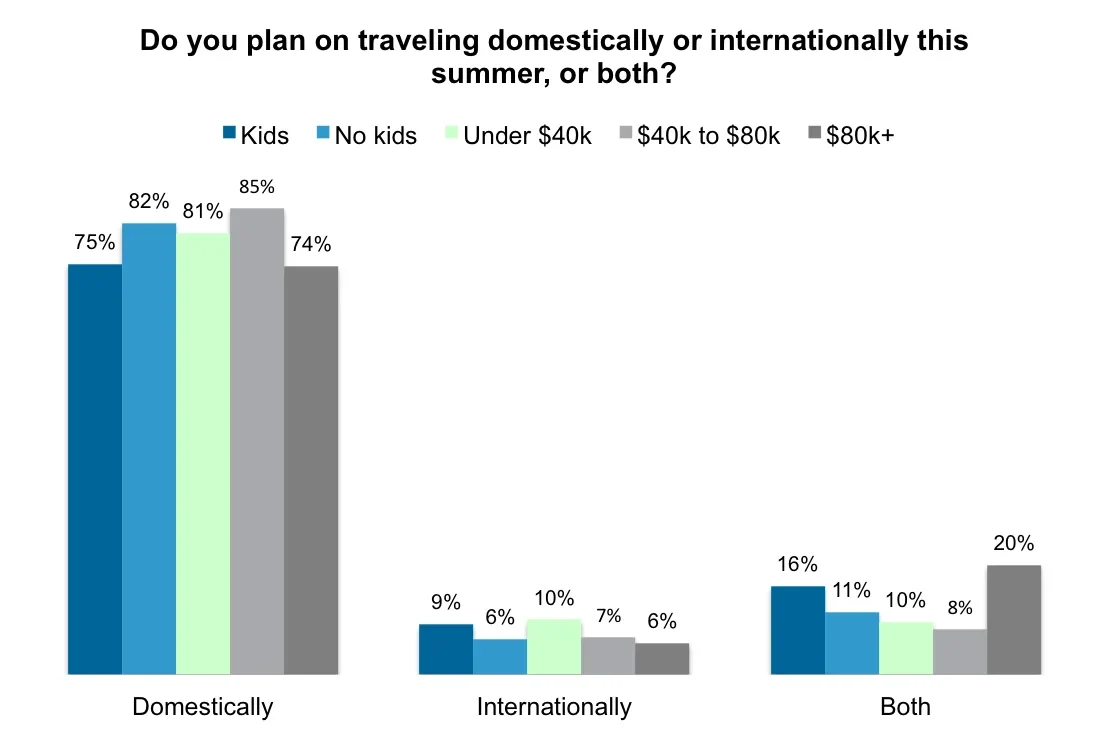 The South is set to be the most popular vacation destination for domestic travelers this summer. 30% of Americans who plan a vacation in the US will be traveling to the southern US, and 21% will be going to the West. Alaska is the least popular domestic vacation spot, although 3% of domestic travelers will be choosing to visit the state this summer.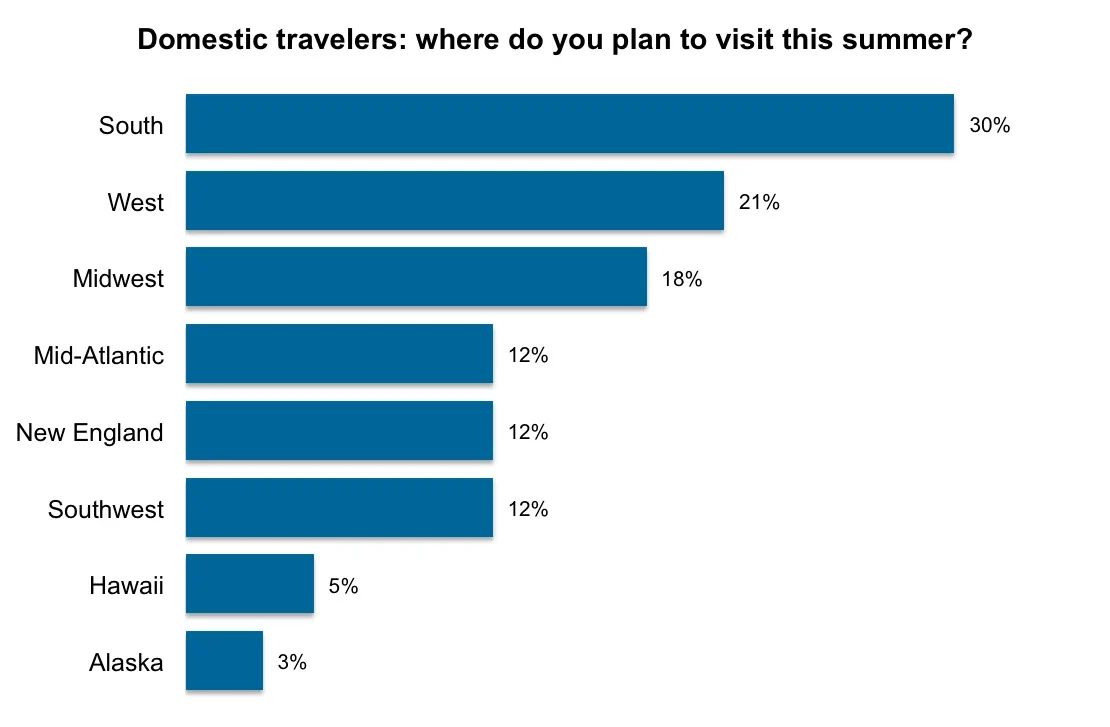 Europe is the most popular destination for America's international travelers this summer, with the Caribbean Islands shortly behind. Australia (4%) and Africa (4%) were less popular international destinations, and 6% of international travelers say they will visit the Middle East.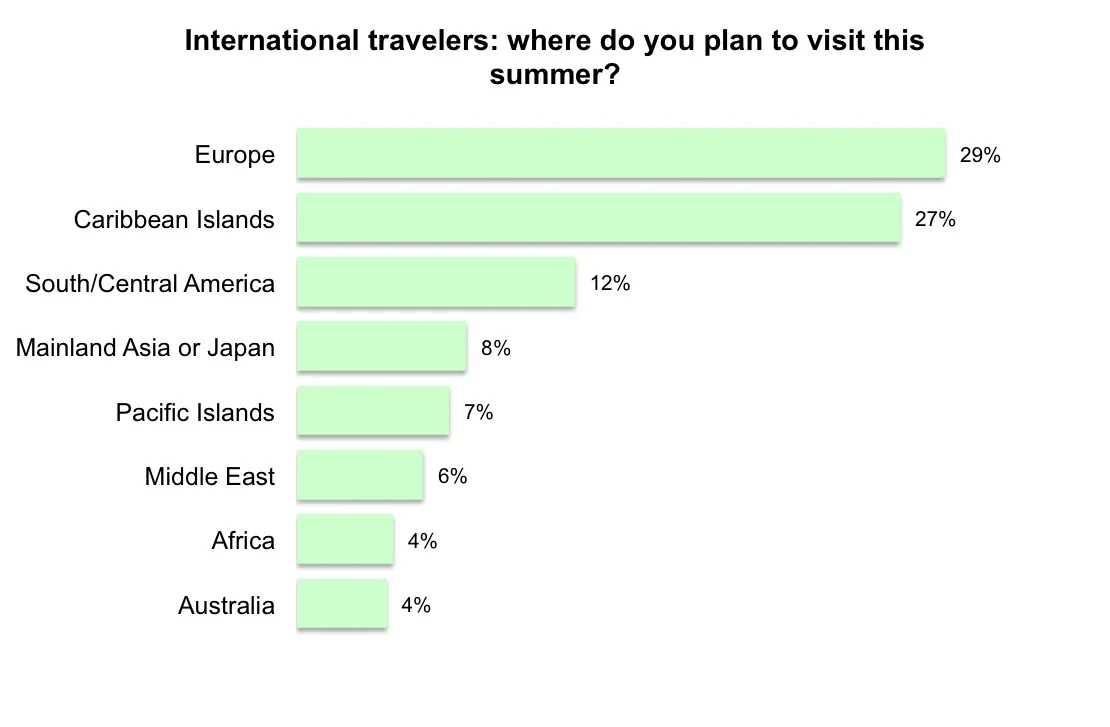 When traveling for pleasure, younger Americans tend to go with their friends or alone, whereas 35-54 year olds are much more likely to be accompanied by their family. While 33% of 18-34 year olds are taking a trip with their friends this summer, just 14% of over-55s will be doing the same.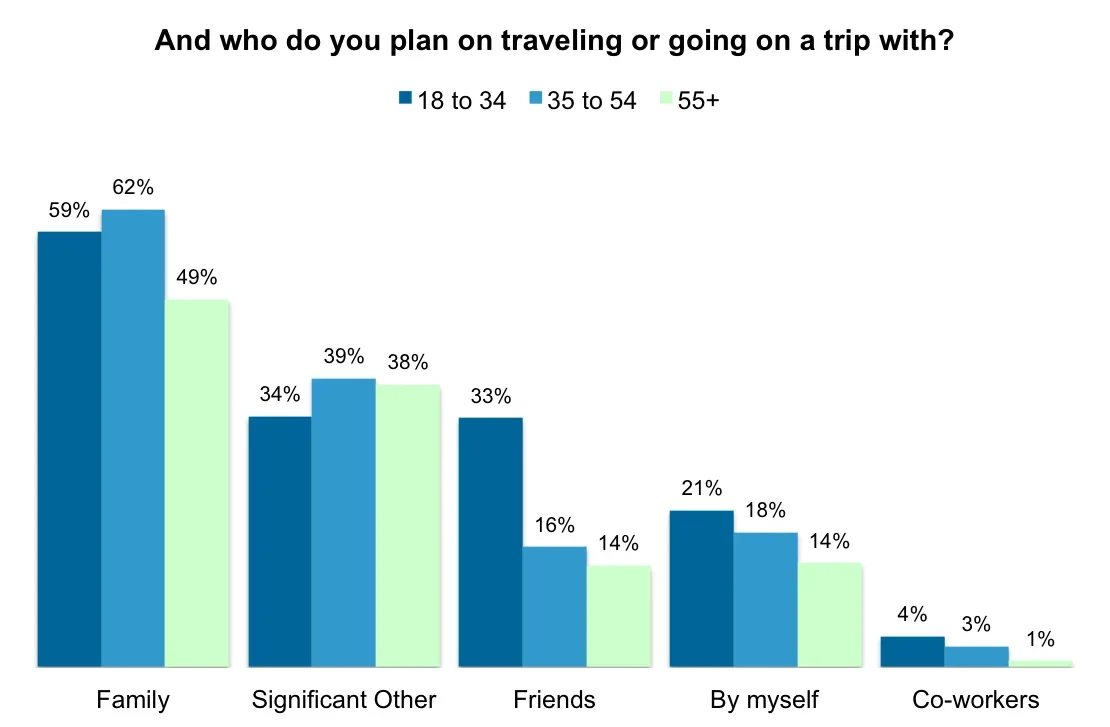 The road trip remains a favorite among Americans, with 67% of those planning on traveling choosing to take a vehicle that they or a traveling companion owns. 14% of Americans going on a trip will choose to rent a vehicle. Higher earners (46%) are much more likely than lower earners (26%) to be traveling by airplane this summer.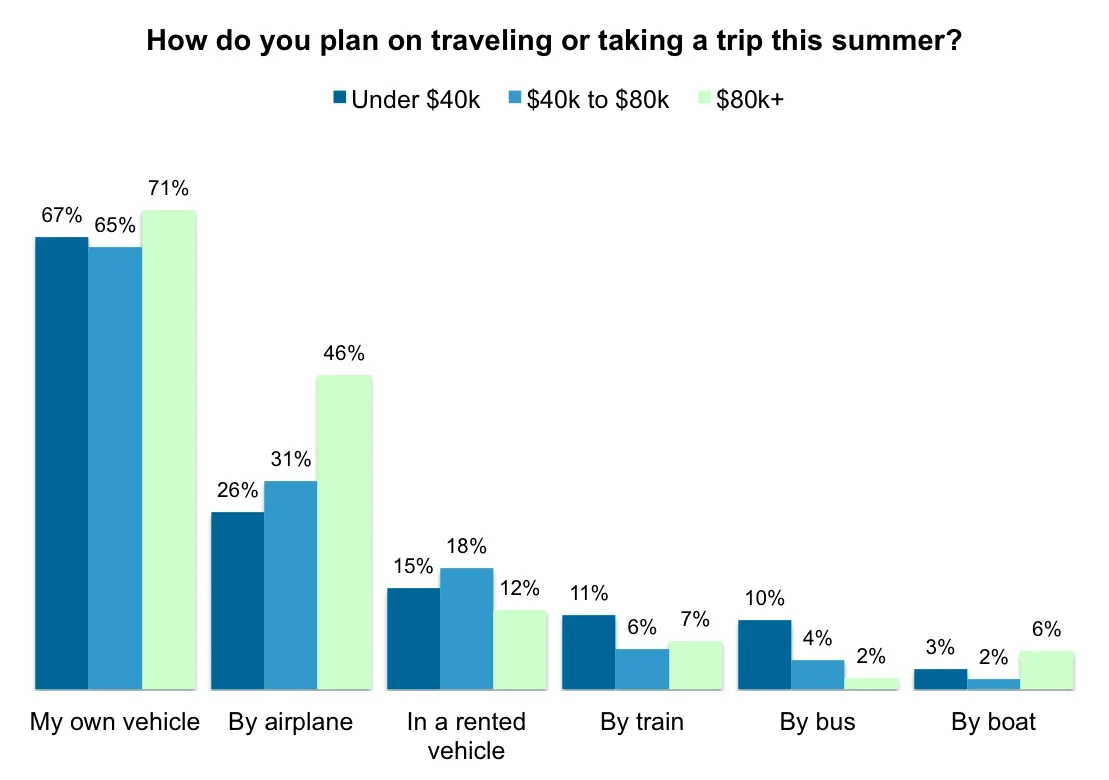 Hotels are also likely to be more popular among wealthier respondents, although income has no effect on whether vacation goers choose to stay with relatives when they go on a trip. Higher earners are also more likely to opt to stay in a cabin, time share, rental property, recreational vehicle or cruise line on their summer trips.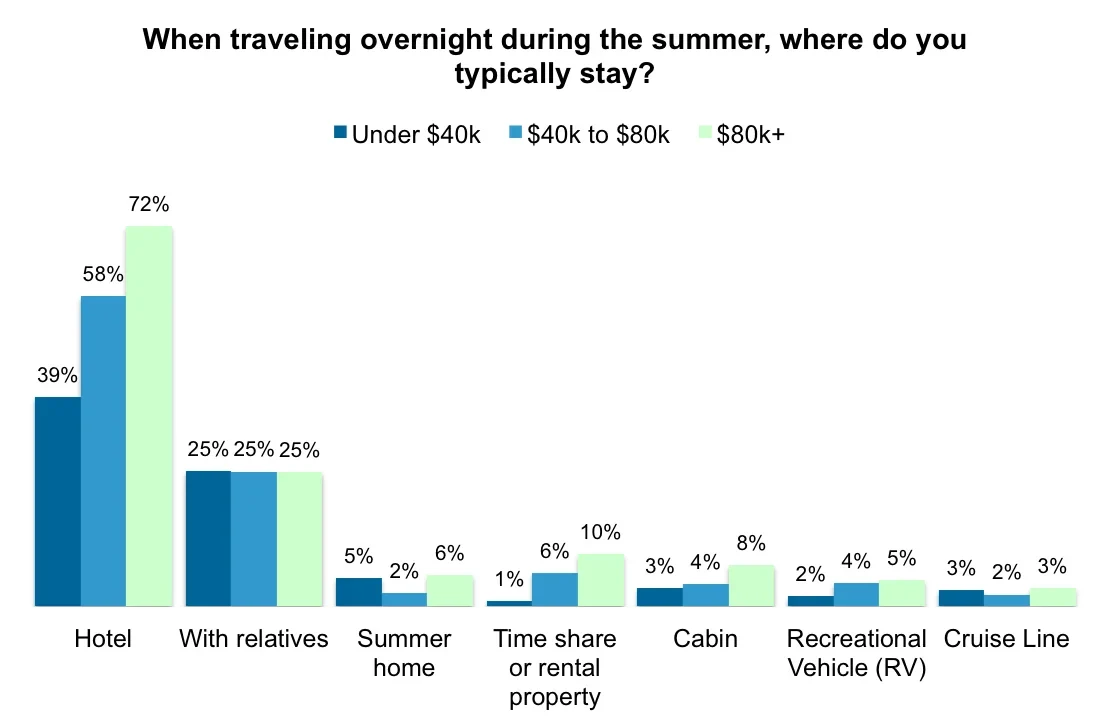 For further information about poll results, and for details about methodology and omnibus services, please email omnibus.us@yougov.com.
Find the full results here.
Image courtesy of Getty