In the midst of the Donald Sterling situation in the US National Basketball Association, racism continues to be an issue in other sports and other nations.
A few weeks ago, during a soccer match in Italy, a rival team's fan threw a banana at black players from AC Milan in a racially motivated incident. Just two weeks before, a Barcelona player ate a banana thrown at him in a similar incident that occurred during the Spanish football league.
With so much going on in US professional sports the incidents which could affect the FIFA World cup do not appear to have reached most Americans. Only 7% of Americans had heard about the racist episodes. More soccer viewers were familiar with the recent incidents with 32% aware.
With the recent Clipper incident many more Americans are aware of racially motivated incidents in basketball (62%) in the last month than in football (19%), baseball (6%) or hockey (6%).
While racism continues to be an ongoing issue and dialogue in sports, 53% of Americans did not that racism was a problem that needed tackling in soccer, football, basketball, baseball or ice hockey; only 29% of African Americans believed that racism was not an issue that needed tackling in these sports. Basketball, with all its recent publicity, seems to be top of mind as a sport with issues of racism, 37% of adults, and 54% of African Americans believe that basketball needs to actively improve matters.
Punishment for players, teams and tournaments vary between sports governing bodies. Currently soccer teams can be punished for the behavior of their fans; 61% of Americans believe this system is unfair and 70% think that the current fines, which are a tiny proportion of club revenues, are ineffective.
Half (52%) of Americans do believe there should be some punishment, however. Soccer watchers in the US believe that larger fines (59%), a demotion from their current league (52%), a deduction of points (58%), and expulsion from a tournament (64%) are more effective penalties.
The FIFA World Cup will emerge as a premier international event to watch later in 2014, and viewers highly anticipate both the play of the national teams, as well as fan behavior. 42% of Americans and 49% of soccer fans disagree that national soccer teams should be punished if their fans racially abuse opposition players during a match. However, 38% thought that banning all supporters from national team matches might be a suitable punishment.
How effective do Americans believe these penalties to be?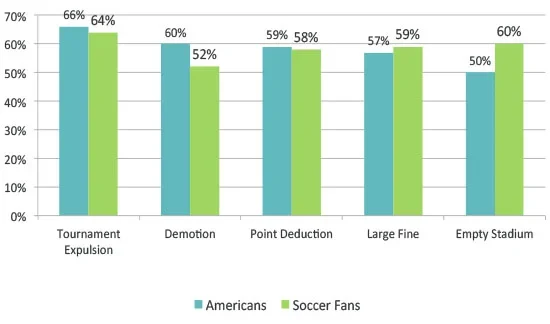 For further information about poll results, and for details about methodology and omnibus services, please email omnibus.us@yougov.com.
Find the full results here.
Image courtesy of Getty