The short-term rental site, Airbnb, has been waging a legal battle with the New York attorney general at the same time as waging a promotional "hearts and mind" campaign for the support of New York City residents.
While the site is not illegal, many Airbnb rentals fall foul of New York City housing regulations where NY city owners and tenants cannot legally rent out apartments for a period of less than 30 days without also living in the property. Taxes, are also an issue - so far Airbnb has not collected taxes from their users but state that they are in favor of ensuring their users are tax compliant.
While Airbnb has been fighting multiple battles in the courtroom, it has also been running an aggressive PR and marketing campaign with the tagline "New Yorkers agree: Airbnb is great for NYC," YouGov Omnibus surveyed New York City residents to see how the campaign resonates with them.
Despite all the advertising and the frequent media coverage only 38% of New York City residents surveyed are currently aware of Airbnb. However, 45% of those who have heard of company agree that "Airbnb is great for New York City," compared to only 13% who disagreed. Once the concept had been explained to them even those who hadn't yet heard of the company generally agreed (40% compared to 12%) that "Airbnb is great for New York City."
Of those who had heard of Airbnb, 7% have rented out a room on the website and 13% have rented a room from somebody using the website.
New Yorkers seem to have embraced the concept of super-short-term lets: 62%, who had heard of Airbnb, would consider, or would definitely use Airbnb whilst travelling to a new US city, with 55% happy to consider the service for an international trip. For those New Yorkers who faced a few days of homelessness between one rental contract and the next, 18% thought that they would definitely use the service and 46% would consider using it.
Imagine you found yourself in the following situations... Would you or would you not consider using Airbnb to rent a place to stay?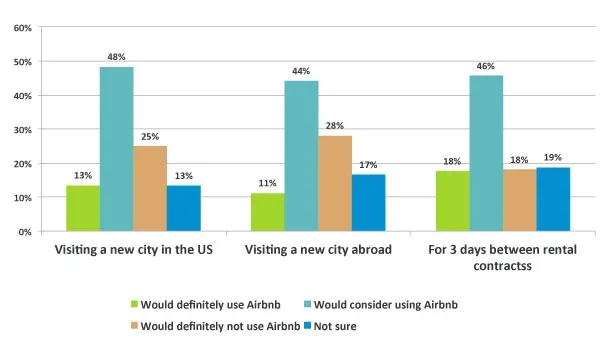 Base: NYC resident adults n=500
The following are statements from New Yorkers regarding the impact of Airbnb on NYC:
It is a source of supplemental income (42%).
It brings more affordable accommodation to tourists who wouldn't be able to afford NYC (39%).
It enables tourists to try out new neighborhoods (42%).
However the flip side is uncertainty about the kinds of people Airbnb may be encouraging into residential building:
There are no guarantees as to the kind of people who would rent out a room (44%).
I don't want strangers coming into my building if someone is renting their apartment through Airbnb (27%).
For further information about poll results, and for details about methodology and omnibus services, please email omnibus.us@yougov.com.
Find the full results here.
Image courtesy of Getty