The media firestorm whipped up around "Deflategate" ensured that most Americans coming into this Super Bowl weekend are well aware of the latest NFL scandal.
Over three quarters of Americans (76%) are aware of the allegations of deflated footballs in the New England Patriots AFC Championship game, and many are pretty skeptical about the whole event.
Forty-five percent think it was a deliberate act. Thirty percent think that the New England Patriots deflated the balls intentionally to gain unfair advantage while another 15% think that although it was intentionally done the more "relaxed" footballs didn't result in any game advantage.
Even Patriots Super Bowl supporters find the whole escapade suspicious with nearly two in five (37%) Patriots game supporters believing the balls were deflated intentionally.
Although 63% of Americans aware of "Deflategate" think that it is damaging the reputation of the NFL – and 25% think that it is very damaging – figures are mild in comparison to the domestic abuse allegations, which have plagued the league throughout the season.
However, the string of domestic abuse allegations early in the season are likely to be more damaging to the league, including the scandals surrounding Ray Rice (81% of those aware said it was damaging), Adrian Peterson (78% of those aware) and Greg Hardy (77% of those aware).
Of those aware of each of these league scandals, 43% think that the NFL handled the Ray Rice affair very badly compared to 26% who thought they totally dropped the ball over "Deflategate".
If the New England Patriots are found guilty of deflating the balls for unfair advantage 42% of American adults think they should be fined, and 34% think they should lose their first round draft pick.
Appropriate punishment for ball tampering very much depends on which end of the field you are sitting on. Nearly a quarter (23%) of Seattle Seahawks supporters would like to see the Indianapolis Colts playing in place of the Patriots on Sunday and 20% think Tom Brady should be banned from the Super Bowl (compared to only 6% of Patriot supporters for each).
If the New England Patriots are found guilty of intentionally deflating the balls to gain an unfair advantage, which, if any, of the following punishments would you like to see issued?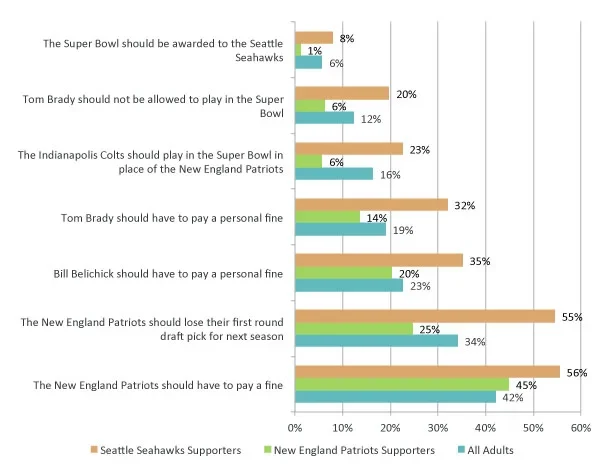 For further information about Omnibus results, and for details about methodology and Omnibus services, please email omnibus.us@yougov.com.
Find the full results here.

Image courtesy of Press Association