Of all major sports leagues, the NBA is generating the most positive Buzz (+17.5) among 18-34 year olds while the NFL continues to lead in terms of overall conversation (21%), according to YouGov BrandIndex, the only daily consumer perception research service.
Looking into the data further, we see all leagues are generating less conversation (Word of Mouth) with Millennials versus one year ago. The NHL is unique in that it is also experiencing a sentiment (Buzz) decline over the last year. The NHL has recently announced that they will be creating next year's schedule "without any break to accommodate the Olympic Winter Games," ending a near two-decade tradition of accommodating professional athletes competing for their home country. It remains to be seen if the recent kickoff to the post season will reverse that trend.
Millennials are an audience on which leagues, brands and the media seem to focus, as they can determine your future business performance. Not surprisingly, the place to reach that audience is online. According to YouGov Profiles data, 81% of Millennials agree that "the Internet is my primary source of information" versus 62% of adults 35+.
Among the major sports leagues, the NBA is the only one with more millennials than adults 35+ indicating that it is their "favorite sport to watch": 7% versus 4%. The NFL registers a higher volume of young fans who indicate it is their favorite sport to watch at 13%. That 13%, however, is roughly half of the 23% of adults 35+ who say that the NFL is their favorite sport to watch, which indicates that the NFL needs to continue to search for a way to capture the hearts and minds of millennials. The NFL's recent $50 million partnership with Amazon to stream Thursday night games may be, in part, an effort to do just that. Amazon provides the NFL a platform that appeals to a younger audience. In fact, Amazon is the number one recommended brand amongst Millennials so far in 2017, according to YouGov BrandIndex.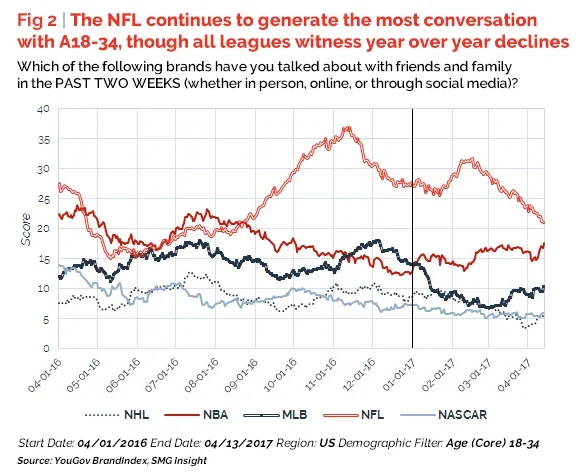 Methodology
YouGov BrandIndex (www.brandindex.com) interviews 4,800 people each weekday from a representative US population sample, more than 1.5 million interviews per year. Respondents are drawn from an online panel of more than 1.8MM individuals.
• Buzz score: "If you've heard anything about the brand in the last two weeks, through advertising, news or word of mouth, was it positive or negative?"
• Word of Mouth: "Which of the following brands have you talked about with friends or family over the past two weeks (online or offline)
• Recommend: "Which of the following brands would you Recommend to a friend of family member? Which you recommend they Avoid"
YouGov Profiles (www.today.yougov.com/find-solutions/profiles) is an innovative market research tool that both collects and connects over 200,000 datapoints from more than 200,000 YouGov panel members across the country. Using digital tracking technology and several types of online surveys to capture a variety of opinions, attitudes, and behaviors, YouGov Profiles is nationally representative and updates weekly.