Gamers are buying downloaded games nearly as much as physical discs; are willing to wait for delayed titles according to YouGov Console Game Retrospective
With the holiday season well behind us and E3 2016 on the horizon, YouGov has released its Console Game Retrospective, designed to provide a look into the motivations, behaviors, and attitudes that drove 2015 video game purchasing decisions (including the holiday season, which carried through January 2016).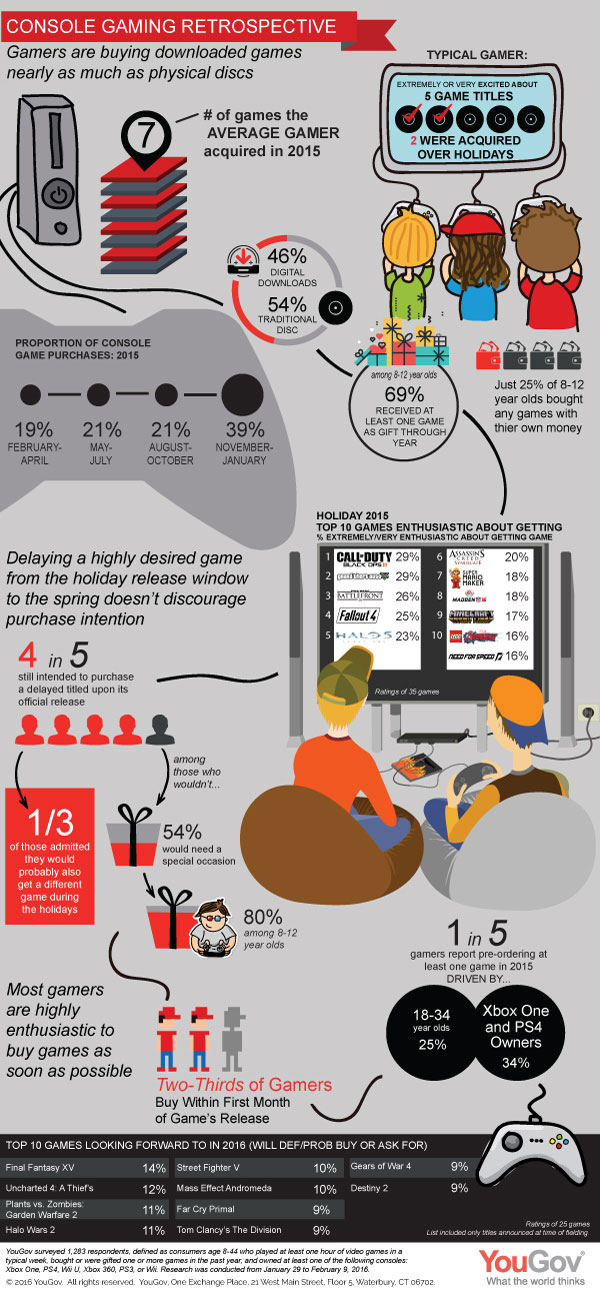 To gather these insights, YouGov surveyed more than 1200 video game enthusiasts throughout the US on the console titles they bought, when they bought them, and in what format, among other questions.   In summary:
Digital Game Downloads Nearly As Common As Disc-Based Games
According to survey respondents, the average gamer acquired seven games for their console throughout the year, including disc-based games and digital downloads.  Digital downloads comprised 46% of all purchases, while traditional discs made up the balance (54%).
Across the full year, console game purchases were made primarily during the November-January winter/holiday release window (39%), while purchases made through the rest of the year were distributed fairly evenly (February-April: 19% of total year's purchases, May-July: 21%, and August-October: 21%).
Two of Five Most Wanted Games Were Acquired Over the Holidays
Gamers were also asked about their awareness of several game titles, and their enthusiasm towards the possibility of owning each title heading into the 2015 holiday season.  The average gamer reported they were extremely or very enthusiastic about five specific game titles. Of these, two were acquired over the holidays (bought by themselves, received as a gift, or acquired via gift card). 
Delaying a Highly Desired Game from the Holiday Release Window to the Spring Doesn't Discourage Purchase Intention
In addition to asking gamers to consider the titles that they were enthusiastic to acquire over the holiday season, they were also asked what they would do if the release of any of these games were delayed beyond the holidays into the spring or summer season. While eight-in-ten report that they still intended to purchase a delayed titled upon its official release, about one-third of those admitted they would probably also get a different game during the holidays.  Of those who said they would not buy the delayed game at a later date, over half (54%) admitted that they would need a special occasion (such as a birthday or holiday) as a reason to get the game, a provision that is especially true among 8-12 year olds (80%).
Two-Thirds of Gamers Buy Within First Month of Game's Release
Reflecting their enthusiasm, one-in-five gamers report pre-ordering at least one game over the past year. This is driven by older gamers, particularly 25-34 year olds, 25% of whom have pre-ordered one or more games.  Purchase urgency is clearly a characteristic among Xbox One and PS4 owners, with about one-third of each reporting pre-orders for at least one game.  In aggregate, 17% of games were pre-ordered, and 32% were purchased on release day or within the first week. In all, more than two-thirds of games were purchased within the first month of release. 
Video Games As Gifts Is Strong for Gamers Under Age 25
Of the games acquired, just 25% of 8-12 year olds purchased any games for themselves with their own money. Instead, a vast majority (69%) received at least one game as a gift throughout the year. A similar proportion of 13-17 year olds received games as a gift, although proportion of teens buying games with their own money increases to 45%. Receiving games as gifts begins to fall over the age of 17, to 44% among 18-24 year olds and just over one-quarter of 25-44 year olds.
Methodology
YouGov surveyed 1,283 respondents, defined as consumers age 8-44 who played at least one hour of video games in a typical week, bought or were gifted one or more games in the past year, and owned one of the six last- and current-gen consoles (PS4, PS3, Xbox One, Xbox 360, Wii U or Wii).  Research was conducted from January 29 to February 9, 2016.
About YouGov
YouGov is a leading international full-service research and consulting company and a pioneer in the use of technology to collect higher quality, in-depth data for the world's leading businesses and institutions so that they can better serve the people that sustain them.   With offices throughout the US, UK, Europe, the Middle East and Asia, YouGov leverages its online sampling, research expertise and consulting experience to provide clients with sophisticated market strategy, market analytics, and survey and forecasting services.