It's almost the weekend and for anyone who's been working hard (especially for anyone working on the Fourth!) Saturday night is the time to unwind. And for most of us, staying at home is the best way of relaxing on our evening off. YouGov has asked Americans what they like to do best by asking what their idea of the perfect Saturday evening is.
And the verdict: most of us want to relax at home in front of the TV (30%). The next most popular option was to invite friends over (10%), or have a game night with the family (8%). While 58% said they would rather stay at home on Saturday night, 22% would go out somewhere. Of these, 8% would go to the movies, 5% to a posh restaurant and 5% to a nightclub or bar. An adventurous 1% would spend their evening off by going on a blind date. Here's what we found out:
2% of over-65s would go dancing at a nightclub
Having a family game night was most popular among 18-29 year-olds
11% of 18-29 year-olds would read a book in bed but only 7% of over-65s
No one 29 or under would sit in the garden but 3% of 30-64 year-olds would
Watching TV at home is most popular option in all age, income, education and political party groups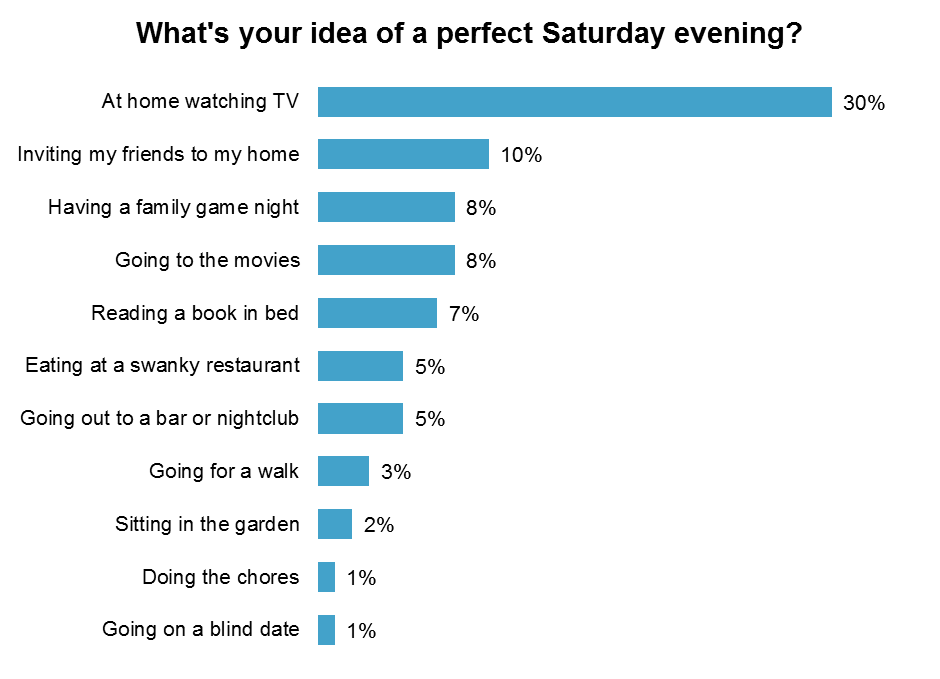 Some of the more tame activities were favored by younger respondents. Counter to expectation, staying at home watching TV, reading a book in bed and a family game night were all more popular options among 18-29 year-olds than with older age groups. Aside from watching TV – the clear winner for all age groups – the most popular activity was to read a book in bed or invite friends over (joint score) for 18-29 year-olds and invite friends over for 30-64 year-olds, as well as for over-65s. But going out to a bar or nightclub is still favored by our younger respondents.