Facebook has announced a new set of emojis called Reactions, and is currently testing new ways to embellish status updates and responses to comments on the social network. The new icons include ways of expressing laughter, surprise or sadness among others. The icons are still being tested by a small number of users and there is still no information on when the features will roll-out to all users.
Research from YouGov Omnibus shows that most Facebook users (64%) approve of the likely change with 25% strongly approving of the new icons. Facebook users aged 30 to 44 are the happiest about the change with 73% of them approving of the new icons, while those under 30 or over the age of 65 are the least happy about the change (58%). 
Given the choice between a simple dislike button and the new Reactions, most would prefer the dislike button.  38% of Facebook users favor a dislike button compared to 30% who are happy with the new emojis. 
Although 32% of Facebook users thinks that these new ways of interacting will enhance their experience on the social networking site, 18% admitted the new buttons might make them less likely to share posts about their personal life.  41% say they currently post major happy life events like marriages and births, while 24% post on major negative events like deaths or job loss.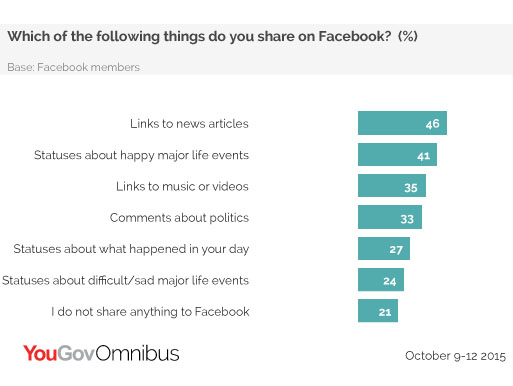 Asked which Reaction they would use for different post types, results showed that the original like button may still have some life left to run.  "Love" works for happy, and sad personal events but the "angry" button seems equally well suited to signal either solidarity or anger.
Facebook users likely response to status updates using the new icons:

For full Omnibus tables click here.