Nearly six in 10 (57%) Americans say they would be interested in taking a solo trip to another US city
Traveling alone can be a unique experience, and it's something that a majority (66%) of Americans either have done or would consider doing so. While some may be looking to bolster their self-confidence or meet new people, the most common reason people are looking to travel alone is simple: they don't want to compromise.
Research from YouGov RealTime finds the most popular reason people gave for traveling alone (or being open to it) is wanting the freedom to choose their own itinerary without input from others (47%). Close to four in ten (37%) of these people say it's easier to relax and unwind when they're alone.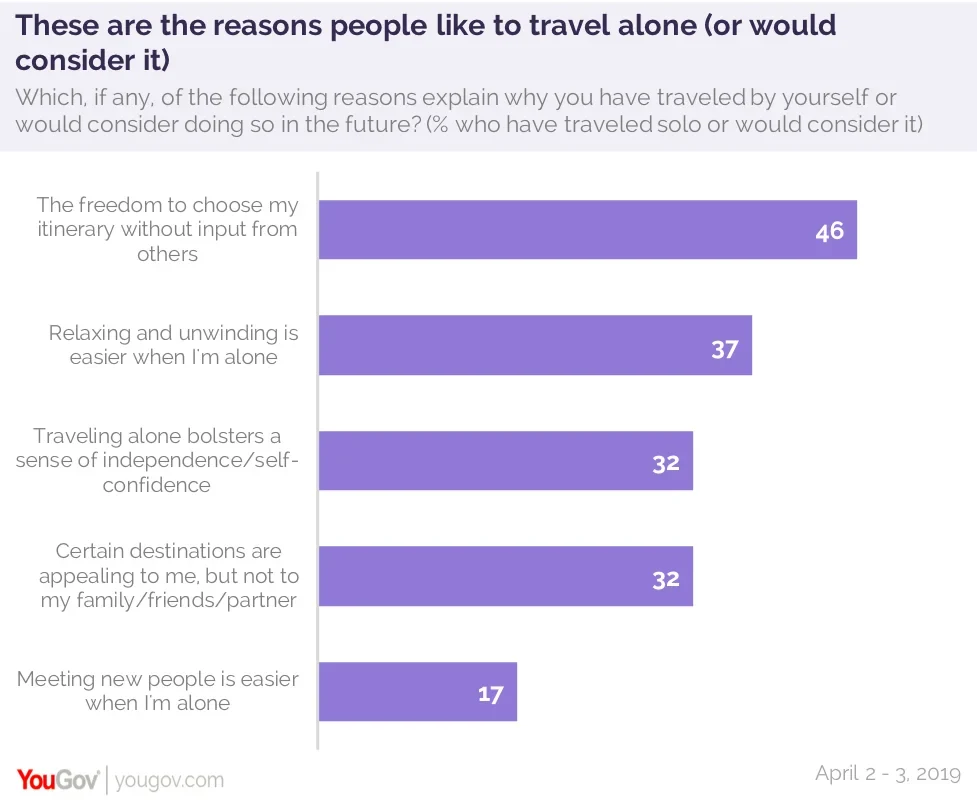 About one-third (32%) say traveling alone bolsters a sense of independence and self-confidence. Among Millennial (41%) and Gen X (39%) women, this is an especially popular reason to travel solo.
Solo travel is especially appealing for women in their 20s and 30s. Millennial women (23%) are more likely than Gen X (15%) and Baby Boomer (10%) women -- as well as men in their own generation (16%) -- to say they have never traveled alone, but would be open to it.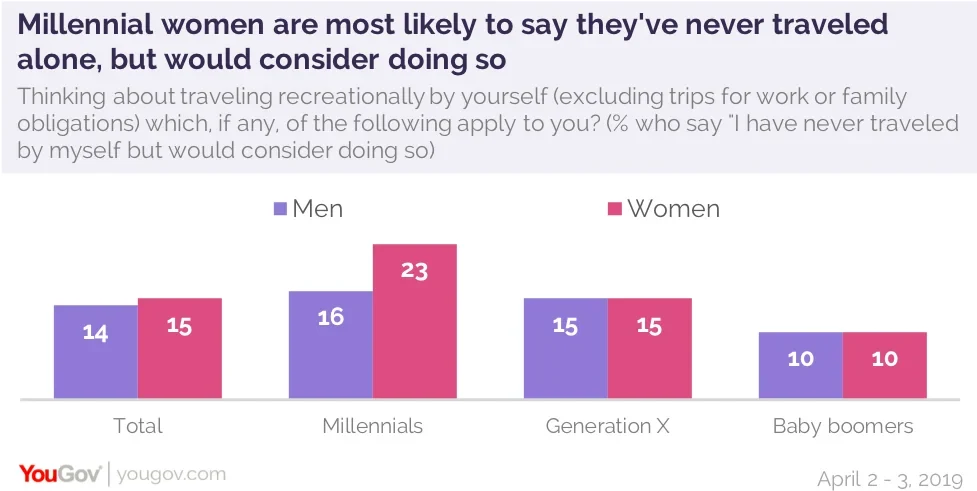 Many young Americans have already embarked on at least one solo trip. Nearly one in five millennial women (19%) has traveled internationally by herself, while 16% of female Gen Xers and 14% of female baby boomers say the same. Millennial men (21%) are almost equally as likely to have traveled alone internationally.
Americans are more interested in taking certain types of trips alone than others. At least half of Americans say they would be interested in taking a trip to another US city alone (57%) or taking a road trip alone (50%). Fewer (40%) are interested in taking a beach vacation by themselves, while 37% say they would be interested in traveling to a foreign city alone. Only one quarter (25%) would go camping alone, though men (33%) are considerably more likely than women (17%) to express interest in this.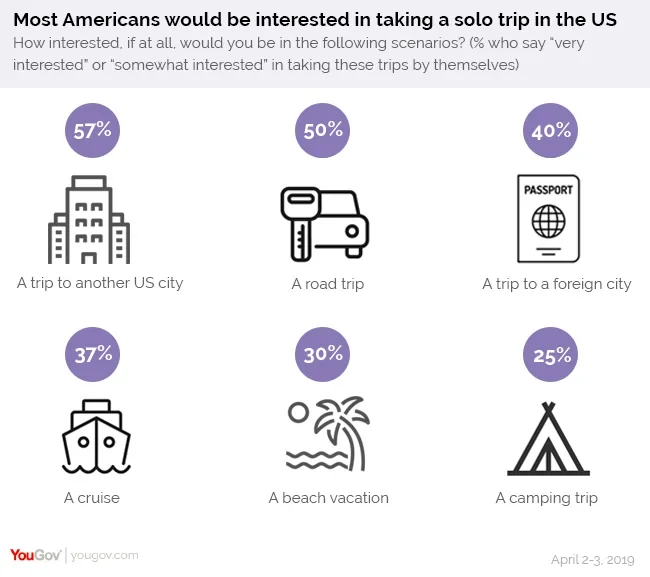 Many of those who are not open to traveling alone say it's because they would feel unsafe (57%) or lonely (51%). Nearly a quarter (23%) aren't comfortable making travel arrangements by themselves, while an equal number (23%) say their friends or family members don't want them to travel alone. Women are especially likely to say they would feel unsafe (76%) or say that their family doesn't want them to travel alone (30%).
See full results here.
Related: White men believe it's a more dangerous time for men than women in America
Learn more about YouGov RealTime and sign up to be a panelist here.
Methodology: Nationally representative sample of 1,215 US adults, conducted online April 2 - 3, 2019.
Image: Getty