Abraham Lincoln may have led the US through its Civil War, but that hasn't stopped more than half of Americans (53%) from saying George Washington would win against him in a fight. In the imaginary battle of the presidents, lower earners are evenly split over the outcome of a Lincoln-Washington fight, while higher earners are more likely to side with the Founding Father and army commander, George Washington.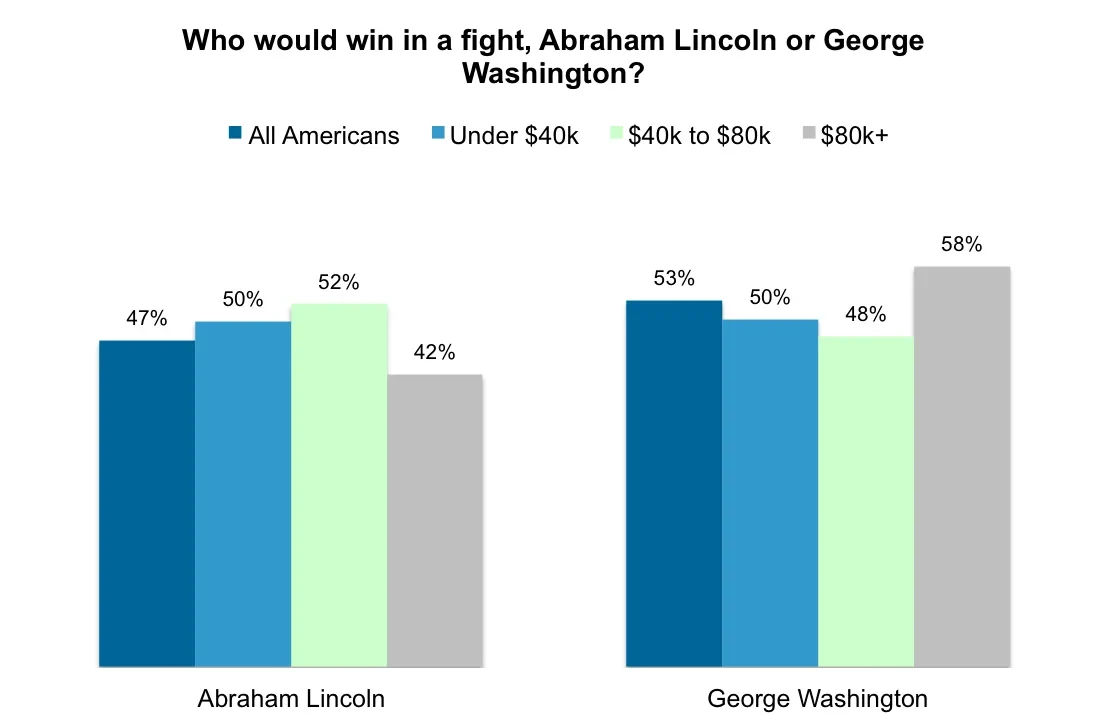 The majority (57%) of Americans living in the Northeast, however, are more likely to see Lincoln as the victor, while 60% of Southerners think Washington would win.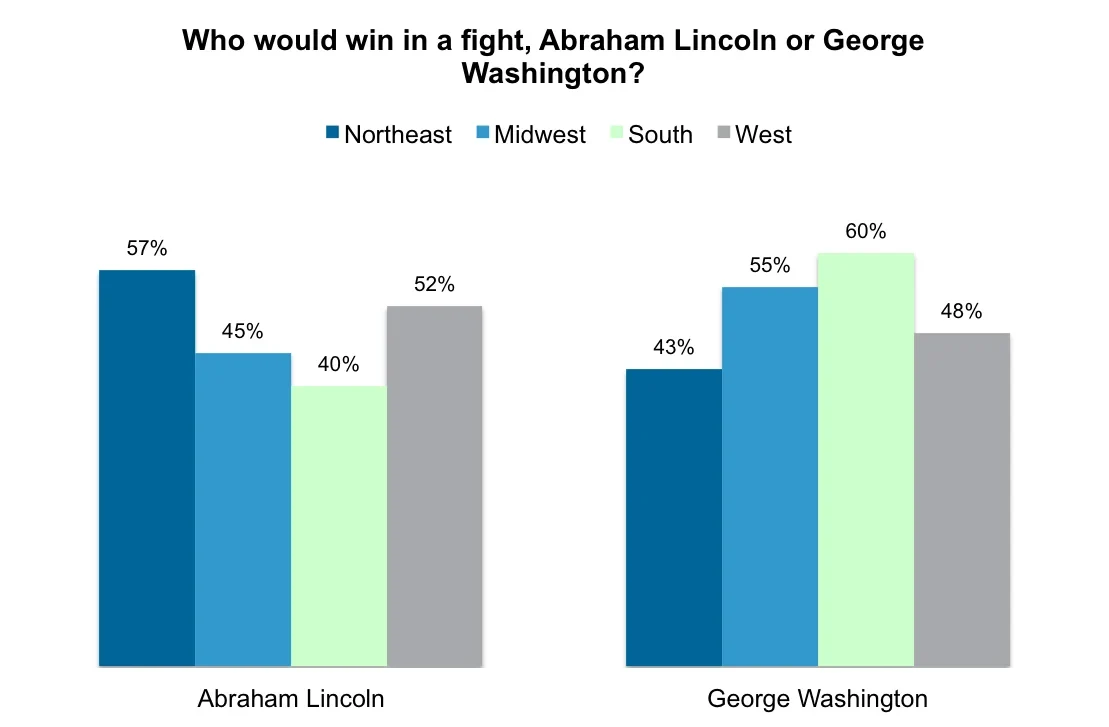 Fictional characters are no less divisive – 60% of Americans think Gandalf would win in a fight with fellow wizard Dumbledore, while 40% support the latter. Women are more likely to think the Hogwarts Headmaster Dumbledore would win against Gandalf (45%) than men (35%).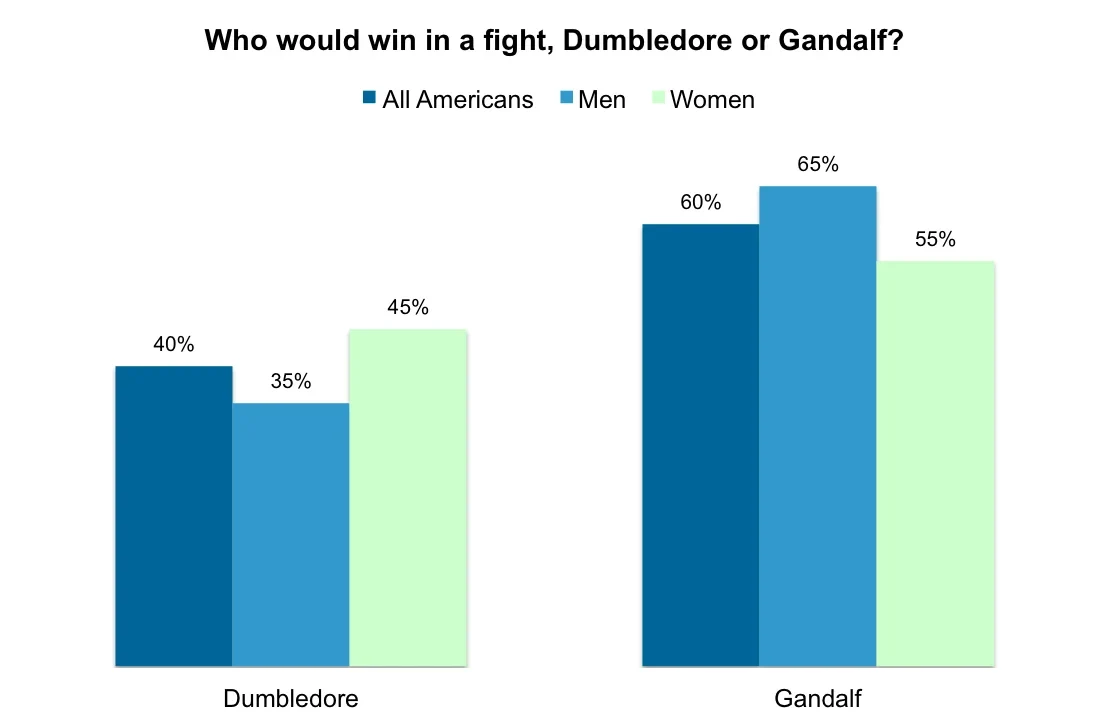 Superman seems to have most support among older generations, as 90% of Americans aged 55 and over think he would win in a fight with Batman, compared to 56% of 18-34 year olds. Both comic strip characters first appeared in the 1930s, and have since had successful movie franchises, but when pitted together 76% of Americans think Superman would win.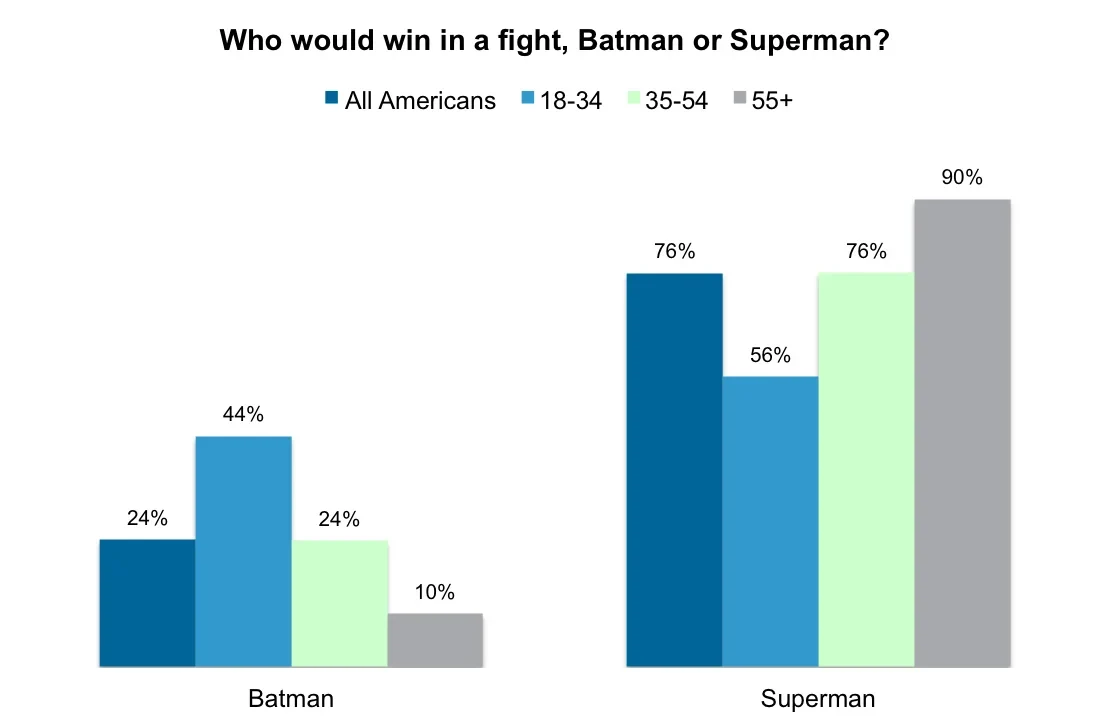 And when Marvel superheroes and fellow Avengers, Hulk and Thor are pitted together, the big, luridly colored Bruce Banner alter ego marginally wins – with 53% of the public vote compared with 47% opting for Thor.
From superheroes to super monsters – what would happen if King Kong were to face off with Godzilla? Opinion is split along gender lines, with the majority of men backing Godzilla (57%). Women are slightly more inclined to vote in favor of King Kong, however (52%). Support for the giant gorilla also increases with age – from just one in three (35%) of those aged 18-34 to over half (57%) of those aged 55+.
Moving into the animal kingdom, if a crocodile and an alligator got into a fight, 61% of Americans say the croc would win. But if a killer whale and a great white shark were to fight, Americans are almost evenly split, with 52% supporting the whale and 48% choosing the shark. Here is a nationally representative breakdown of Americans giving their response to hypothetical fights between animals.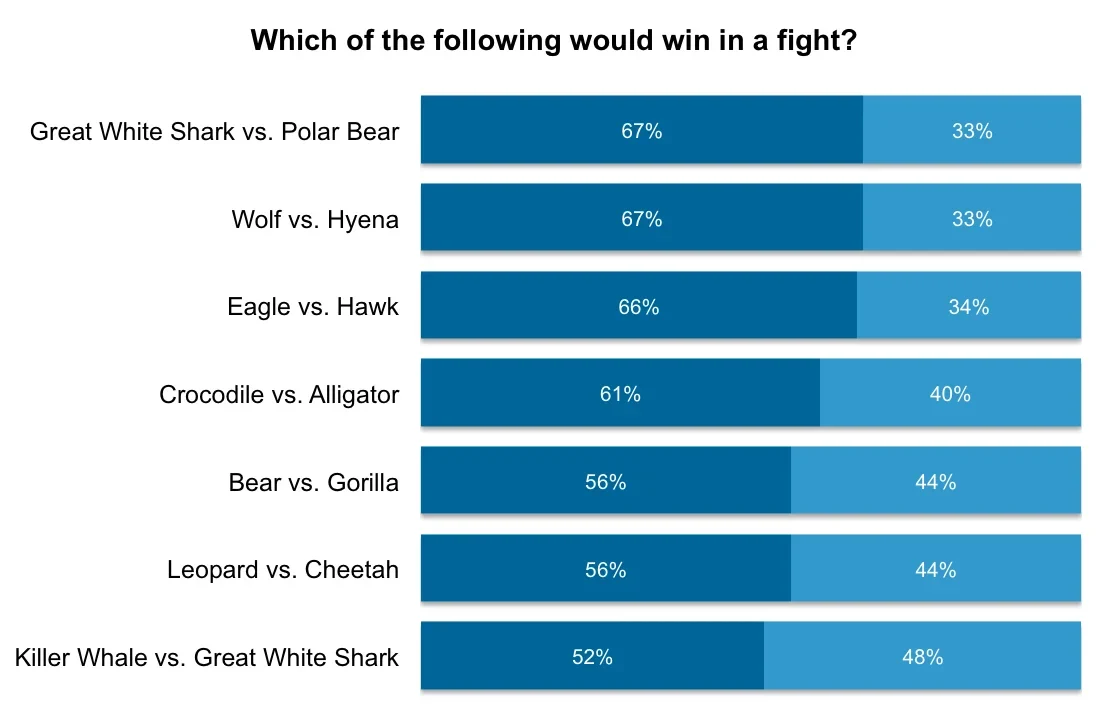 But who would win in the fight between pirates and ninjas? Ninjas of course! Just 24% of the US population voted for the scurvy shipmates compared with 76% plumping for ancient warriors.
For further information about poll results, and for details about methodology and omnibus services, please email omnibus.us@yougov.com.
Find the full results here.
Image courtesy of Getty